Well, here is my latest project. Ever since last summer, when I painted my living room, I never put any drapes back up. I have been trying to go for a more simple look. I had one set of old shutters. It was one of those purchases you make and think...hmm, I will so something with these "Someday". Someone had put vintage looking labels all over these. I took the hinges off and started my project. First a good sanding and some "Annie Sloan" chalk paint in Old white.
Here is a closeup, I tried to give them an "Old" paint treatment
Next, a little clear waxing and get the stencil ready. By the way the stencil is from
Maison de Stencils
Love them!
Then my husband drilled holes in the bottom edge. I decided to add vintage looking knobs across the bottom.
Everything is coming out fine....
All done! Here is the finished project
I have 2 windows in my Living room, so these will do just fine. I am thinking about hanging crystals from the knobs...but, who knows what is next for these windows!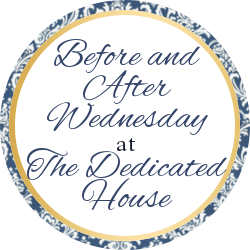 Linking up with:
CEDAR HILL FARMHOUSE